Every engaged couple should have their own list of wedding MUST-HAVES. These must-haves are essential to their wedding day narrative, and if possible, they should be weighted the highest when it comes to cost. If you haven't done so already, write down in order the most important things for you to have at your wedding. If alcohol is at the top, then spend your money on your favorite brands. If food is at the top with a late-night snack station or two, then allocate money to food first.
For a majority of couples we've worked with, there are MUST-HAVES and areas in which they'd like to save. In any case, you want to work with wedding professionals who appeal to your budgetary needs without compromising on quality. Here are some tips on how to do so.
Save: Gifts
Instead of asking for gifts, ask for help with your actual wedding. This could be in the form of money or even artistic talents.
Maybe you have a friend who owns a bakery or someone who is an awesome makeup artist. If your friends and family understand that you're trying to have an affordable yet still very memorable experience, they will try their best to help where they can.
There is no right or wrong way to plan a wedding. It's all about what you want.

Save: Guest list
Ask yourself if you should invite your entire Facebook list of friends to your wedding. It's understandable that in an ultra-technological world, we're connected to people near and far. But remember who is important to you. Think about the relationships you've been nurturing for years. These people should take precedence on your list.
Save: Invitations
If you have access to a high-quality printer, you can take over the whole wedding world by making your own invitations. Now, don't take this step lightly, as there are dozens of different types of paper that can make or break your invitation. Ink and design are other important factors to consider.
If you don't have access to a high-quality printer, consider online printing or a local print shop. There are many ways to conserve in this area, but make sure you do your research before committing to any method.
Pro tip: Stay off Pinterest unless you are specifically searching under the "DIY" categories. If you're not using this specific filter, Pinterest is going to get your hopes up, as many items are unrealistic or unaffordable.
Save: Linens and chairs
Don't fuss over linens and chairs. Whatever is in your package will usually work. You have to think about the bigger picture. Guests are not going to know there are other options. So whatever you pick is perfect.
Save: Hors d'oeuvres
Finding a caterer that will stay inside your budget and offer exceptional value should be your ultimate goal. If you have a tight budget, you might want to take out your stationary hors d'oeuvres, leaving you with passed hors d'oeuvres for cocktail hour. You can always scale back further and do only a stationary hors d'oeuvre.
Splurge: Late-night eats
On the other hand, if you know you're going crave those late-night eats, direct what you'd save in hors d'oeuvres here.
At Queen of Hearts, we know how to make your catering dollar go a long way. We base our packages on a basic format. We leave you room to upgrade but also typically enough room to take away some items if necessary.
Splurge: Photography
Photography is one of the most essential components to any wedding. After the food is gone and dancing is over, the memories remain. When the memory fades, we're left with pictures. That's a huge reason why a good photographer should be seriously considered and heavily researched for your wedding. All your big and more subtle moments should be captured by someone with trained eyes who can accurately retell the day's story through images for years to come.
Splurge: Music
Maybe you've been to that wedding where they ditched the DJ or band and started playing music off their phone on shuffle. Let's just say if you haven't, it's not a pretty sight. The soundtrack of your special day is one that shouldn't be taken lightly. What will you dance to for your first dance? Is there a sound check? Can your guests hear each other talk? Music sets the tone for any wedding, so don't blow it! Leave it to the professionals to keep the beat popping.
Splurge: Dress
We've seen brides go back and forth on this topic, but the general consensus is that the dress is pretty important. It doesn't have to be the equivalent to a down payment on your home, but it's still a wedding detail that's worth spending a penny on. This is an area where you shouldn't have to compromise on how it fits and feels. Luckily there are a lot of helpful articles and resources out there to help brides on the dress quest.
Splurge: Shoes
Comfort is pretty self-explanatory.
The most important thing to remember is that this is your day. Not your parents' or your best friend's day for that matter. Thoughtfully consider their opinions, but remember that all choices are ultimately yours. If you can't afford it or it is not a priority, don't do it.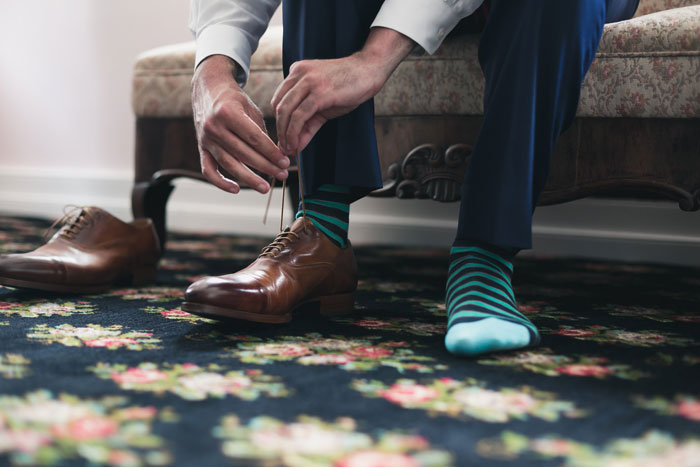 In any case, if budgeting is a concern for you, the earlier you start planning, the better. We'd love to get your thoughts on this article and hear about your splurge and save categories. Reach out!
More articles you might enjoy: