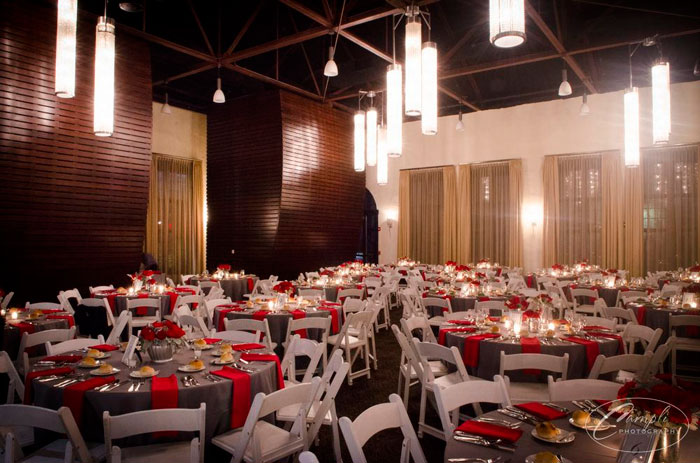 Put on your best dress or most festive tie because your corporate holiday party is right around the corner! This is your time to be fancy and different, enjoy a scrumptious cocktail and mingle with your favorite co-workers. You worked hard this year, so you may be looking for an experience that really floors your team and gives them the proper end-of-year sendoff.
The perfect holiday spread keeps everyone engaged and well fed. One way to do so is to arrange light food stations on all ends of the room and make sure hors d'oeuvres are moving around at all times to keep the conversations flowing and everyone's energy up. Here are some more flavorful and fun ways to liven up your next corporate holiday party.
The Season for Delicious Cocktails
Drinks set the mood of any elegant holiday gathering. Go with something that's light and refreshing and that stirs the senses. Spiced rum or cranberry infused cocktails are two ways to accomplish this. One of our absolute favorite drinks to serve at Christmas parties is the Poinsetta, a champagne cocktail with cranberry juice or pomegranate juice.
Festive Appetizers
Make sure every guest is in arm's length of a bite-size present at all times. Gift wrap your scallops in bacon. Fill your phyllo with raspberry and brie. During cocktail hour, bring out the bright reds and greens with a fresh and zesty bruschetta station:
Toasted Bruchetta Display
served with a trio of toppings: rosemary and
creamy goat cheese, sundried tomato boursin and
the traditional diced tomato basil fresca, served
with fresh breads and crostini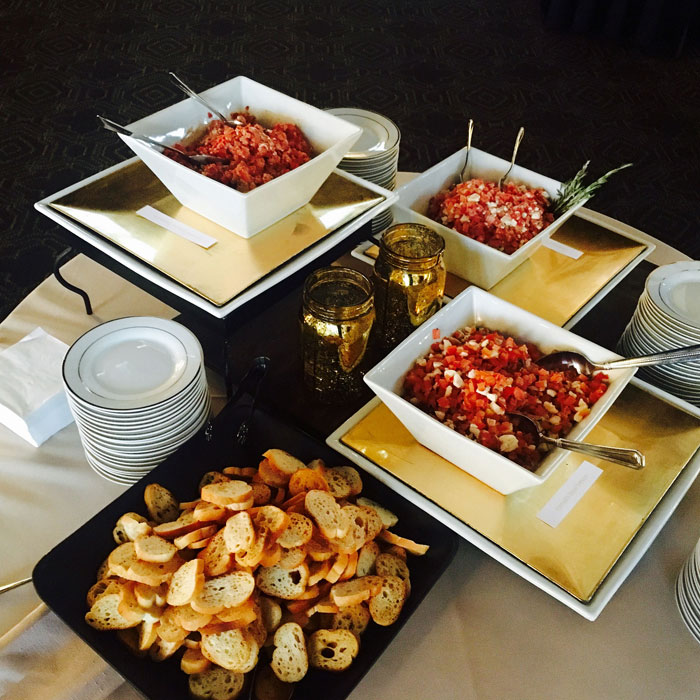 Delightful Entrées
We love whipping up farm-fresh entrees during the holidays. One of our favorite dishes is Apple and Andouille Chicken, stuffed with cornbread, apples and smoked andouille sausage served with rosemary fig chutney. Try our Caramelized Onion and Brown Sugar Ham served with honey mustard glaze, apple mango chutney and honey mustard sauce.
These dishes provide the "wow" factors that you are looking for when serving your corporate crowds. Our chef is constantly updating our holiday menus, so if there is something in particular that you are looking for, just let us know!
Bringing People Together
Food isn't the only way to bring workmates together. It's all about the seating arrangements, too.
Mixing and matching is a good way to get people moving around and interacting with more than one person. Arrange tables and chairs, but also incorporate hightops into the floor layout. This compels people to talk and engage, rather than just sit. For extra flair, add game tables.
Customized Holiday
Though we often work with seasonal themes for our holiday parties, we encourage your customization. Ice sculptures are a great way to include your company logo. We can put this on your bar or as a centerpiece to your raw bar. We can use your brand colors for your linens to tie it all in. We also work with great bakeries that can offer favors to guests in the form of chocolates or cupcakes with your company logo on top. Queen of Hearts makes signs for all of your food stations, so just ask to have your logo or colors featured on this for no added cost!
Talk to your planner and pick their brain. Come up with a theme or a feeling that you want, and your planner can help suggest the best way to create a menu around that. Be open with your planner and let them know the demographics of the event so they can properly tailor the menu.
Are you planning a corporate holiday event? If so, we'd love to hear from you. Simply tell us about your event and choose a budget-conscious package that works for you. Contact us!
 More articles you might enjoy: