If you are looking for fun ways to recognize and reward employees for their hard work and dedication, then you are in the right place. Backed by more than 30 years of experience, our expert event coordinators compiled this guide to treating your employees in creative new ways.
We are excited to find out which employee appreciation idea matches your company's style, and we can't wait to make planning it an effortless task for you and your team. All the fun without any hassle—let's get started on throwing your Philadelphia employee appreciation party!
Download the full list of 50 ideas. 
Memorable Employee Appreciation Ideas
Bring Out the Fun—Themed Office Parties
1. Superhero-Themed Party
Many companies announce a theme for employee appreciation day, but this one works great any time you want to recognize the seemingly heroic acts that your employees carry out. A superhero-themed party is a great way to bring out employees' creative sides and motivate them to take on that next big project.
2. St. Patrick's Day Green Party
What company doesn't love a good excuse to deck their office out in green? Your employees will squeal in delight (or maybe pinches?) when they see all the green treats and drinks that await them.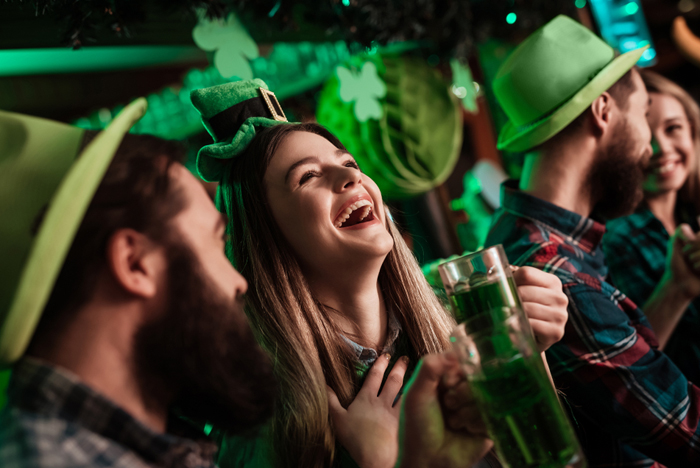 3. Celebrate in Your Favorite Decade
The best employee appreciation party themes are the ones that are meaningful to your company. So go back to your company's year of establishment and invite your employees to dress up in fitting attire for your flashback party.
4. Sporty Office Party
From basketball to baseball and every other sport you can imagine, there is a fun way to decorate a sporty food station that will have employees' mouths watering. Consider bringing in game day fare, pizza and beer! Try out Common Good Pizza & Tap mobile food and drink experience where everyone can order their own pizza.  Meaning everyone is happy (vegetarians and gluten-free-ians included!).
5. Red Party
On Valentine's Day, let your employees know that your company is in love with their drive and passion by treating them to a red party. When it comes to designing your menu, check out these bright red recipes!
6. Holiday Party
Shocking, we know! No, really, there's no better time than during the holidays to share good cheer by gathering to enjoy seasonal food and drinks! Find your Philadelphia holiday party catering style here.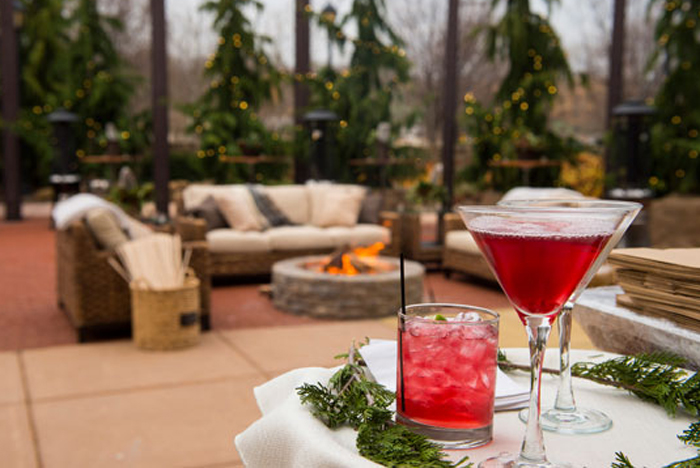 Transform Your Office into an All-Day Escape
7. Day of Royal Treatment
From a masseuse to a shoe shiner, everyone will find an activity that makes him or her feel like royalty. And, of course, don't forget the delectable food!
8. Pirates' Island
On National Talk Like a Pirate Day, you'll have fun decorating your office like an island oasis and hiding treasure chests throughout. And your employees dressed up as pirates will love what they find in them!
9. Rocking Good Times
With the music playing, and maybe even a live band on-site, your office takes on an exceptionally upbeat spirit. With bars throughout, your employees will need little more entertainment to enjoy a rocking good time.
10. Cowboy Up!
From riding a mechanical bull to enjoying some delicious BBQ food, your employees will relax in a western atmosphere.
Giving Feels Good—Community Engagement
11. Dinner on Us
Venture to a premier Philadelphia venue to treat employees to a fine dinner before giving them the opportunity to serve others at a soup kitchen.
12. Holiday Cards and Cheerful Lunch
Your lunchroom is a perfect place for employees to enjoy a full lunch spread while writing in holiday cards to be sent to a local home for the elderly.
13. Halloween Hoot
Set out a creative display of treats customized with your brand's logo, and announce the start of your Halloween give back campaign to raise money for a local charity. Candy jars spread throughout your office make great donation bins!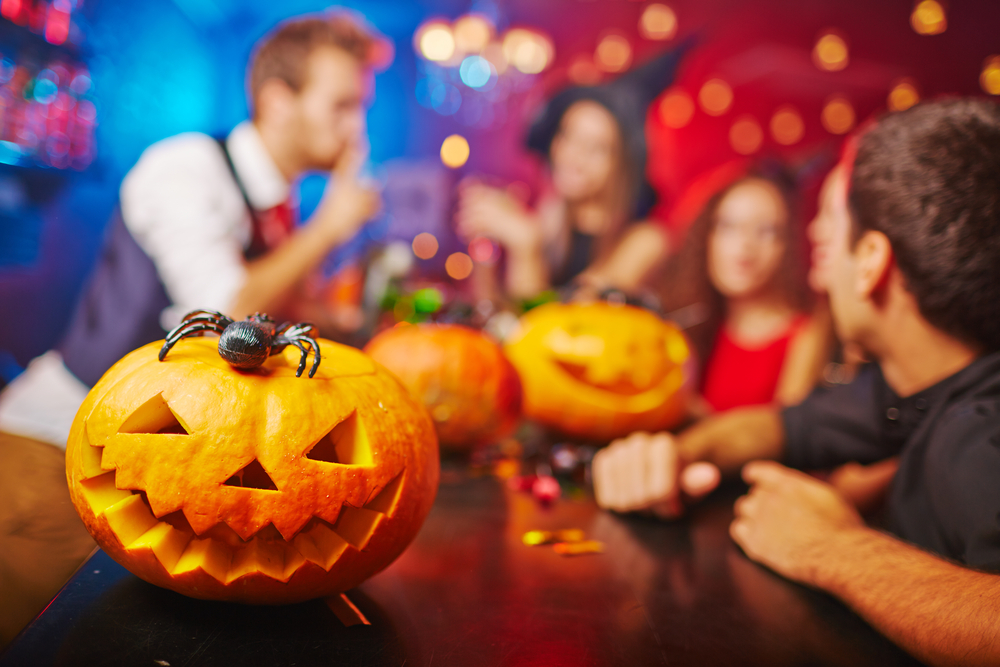 14. Special Olympics Outing
Schedule a time for departments to team up to volunteer their time working a Special Olympics Philadelphia event. They will leave with great inspiration.
15. Volunteer to Build a Home
Organizations like Habitat for Humanity offer the opportunity to put your team's handy skills into work and fill their hearts with pride as they build a home for those in need.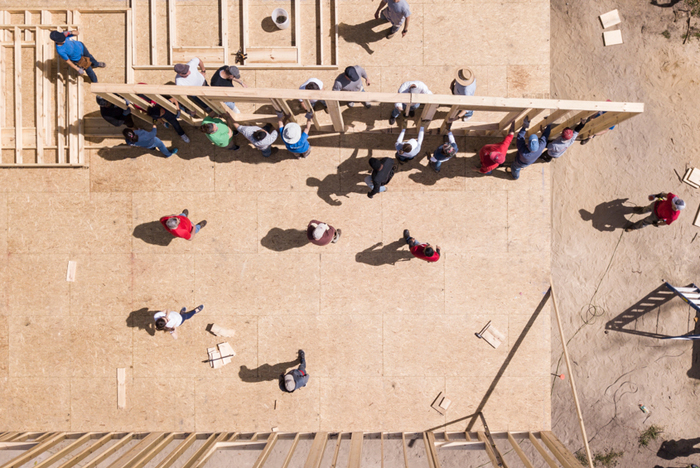 Eat, Drink and Be Merry, Together!
16. Surprise Treats
When employees arrive to the Philadelphia office thinking it's just another Monday, surprise them from the minute they open their office desk drawer and find some custom candies with your company logo. Continue the sweet surprises throughout your office space so treats wait around every corner until the surprise end-of-work dessert decorating party.
17. Artistic Lunch
We view food as an art form. From the recipes to the presentation, our chefs love to use their artistic talent in exciting new ways. You can treat your employees to some creative cuisine to be enjoyed while sketching a company-inspired picture. And, of course, be sure to have an award for the person whose masterpiece is voted the best by their peers.
18. Build Success—Creative Food Stations
Breakfast, lunch or dinner, any meal is a great time for custom food stations where employees put their personal style into their meals and enjoy making memories together. Try out this Mac and Cheese station!
19. Office Happy Hour
Anytime you feel like your employees need to recharge a bit is a great moment for a spontaneous happy hour! Company branded cups filled with their favorite liquor will lift their spirits and energy in no time.
20. New Year, New You Breakfast
It is no secret that many New Year's resolutions involve healthy eating. You can support employees in achieving their goals by setting up a nutritious breakfast buffet their first day back to work in the New Year.
A Nation Worth Celebrating, in Your Philadelphia Office
21. National Donut Day
The first Friday of June marks donut day, and we can't think of a better reason to set out these popular treats with glaze in your company colors.
22. National Margarita Day
When employees hear your company will be celebrating National Margarita Day, they will look forward to saying cheers on February 22!
23. National Cookie Day
Ice your favorite cookies with your company logo and you're all set to celebrate on December 4.
24. National Ice Cream Day
Who doesn't love a sundae bar with a lavish array of toppings? The third Sunday in July is your chance to bring a big smile to employees' faces with a custom sundae bar.
25. National Buffet Day
January 2 is national buffet day, and we can't think of a better time to gather around some tasty food to set big company goals.
26. National Chocolate Day
A lot of employees will have to think back to their childhoods to remember a time they got to collect tons of candy on Halloween. Let them relive the sugar rush by setting out chocolate fondue stations on October 28.
Shine a Spotlight on Creative Talent
27. Karaoke Night
There is no bad time for a company karaoke night, but when you bring on new employees is an exceptionally good time to break the ice.
28. Talent Show
Invite employees to gather on- or off-site to showcase their hidden talents. This can be combined with a delicious meal or a standalone event.
29. Holiday Window Decorating Event
We know your employees aren't gazing out the windows all day, but when they do cast an eye on them, make sure it's a creative and inspiring sight! A holiday window-decorating event is a fun way to kick off the busy winter.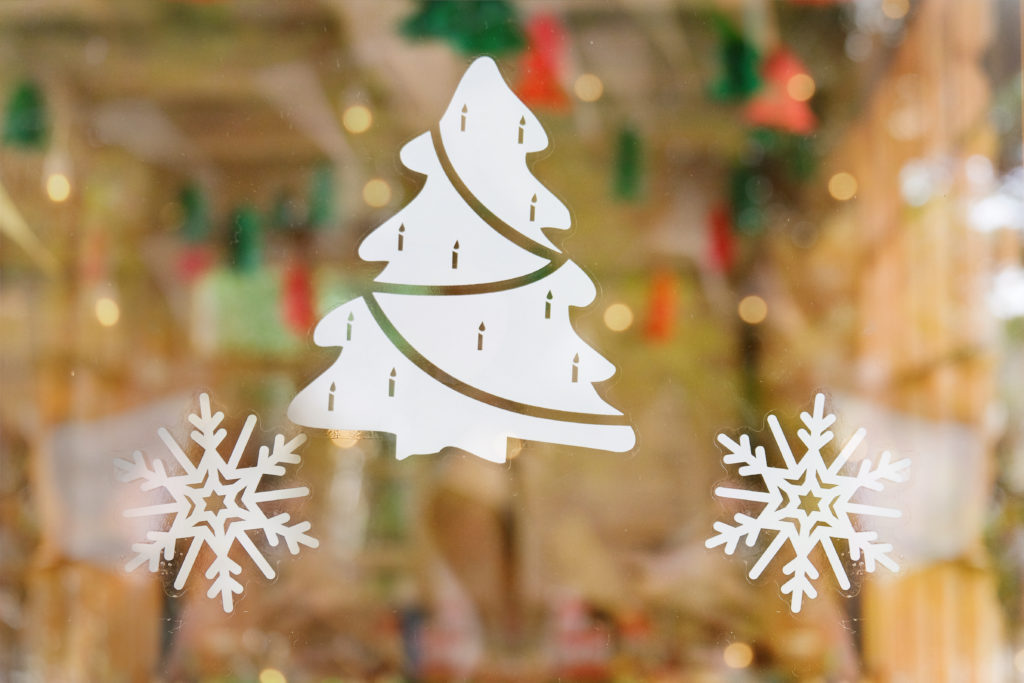 30. Cultural Potluck
Invite employees to bring their favorite dish—simply picked up or prepared—that showcases their roots. This is a great way to help employees share more about themselves and showcase some fine cooking skills.
31. TV Game Show Reenactment
Let departments know when they will be reenacting a scene from their favorite TV show and be sure to have great prizes for the overall favorite.
32. Casino Night
Be sure to have some awesome prizes ready for those who have been practicing their poker skills.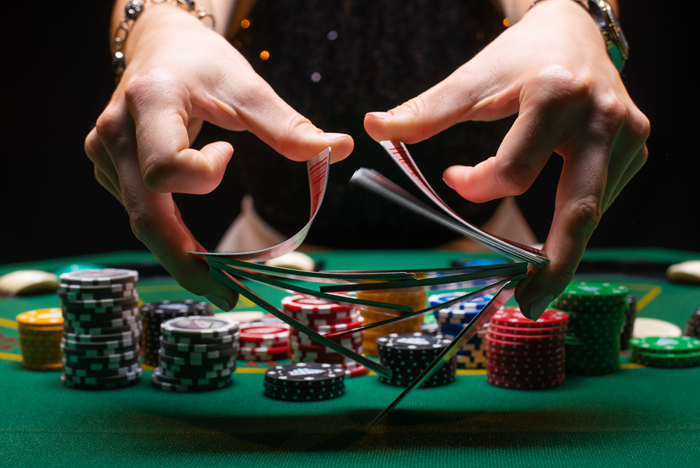 Relaxing Retreats
33. Company Picnic
Fire up the grill and the positive energy with a mouthwatering company picnic employees will never forget.  For an authentic Philadelphia experience, try The Lost Cow.  They offer fresh, made-to-order grilled cheesesteak sandwiches right off their custom built, stainless steel mobile cheesesteak grill.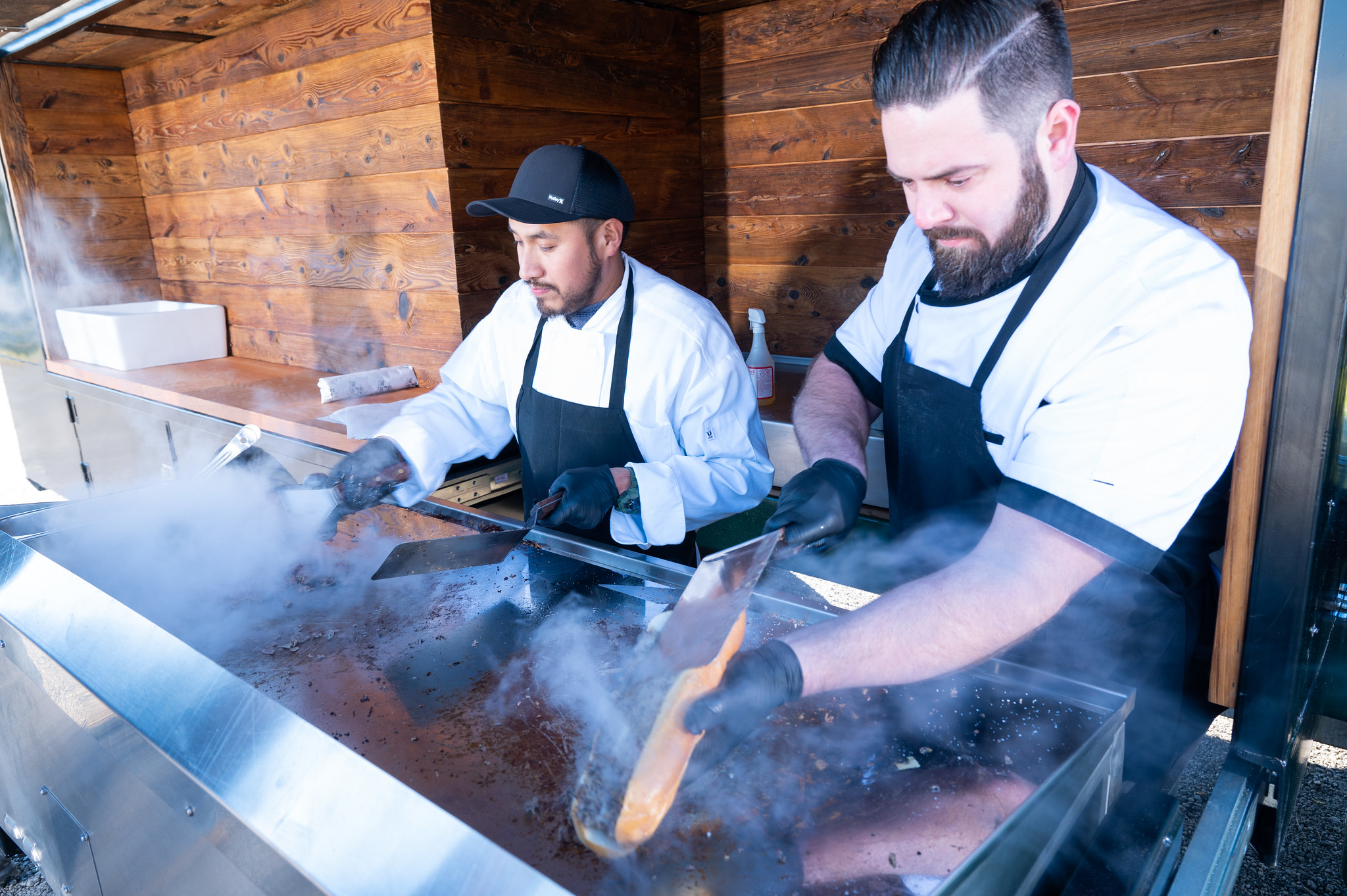 34. Beach Day
You don't have to be waterside to bounce around beach balls and laughter with a beach-themed bash. Mimosas, fresh fruit and good cheer all around.
35. Movie Outside
Let employees vote for what movie they would like to watch after work one day. And then have the popcorn and soft drinks ready!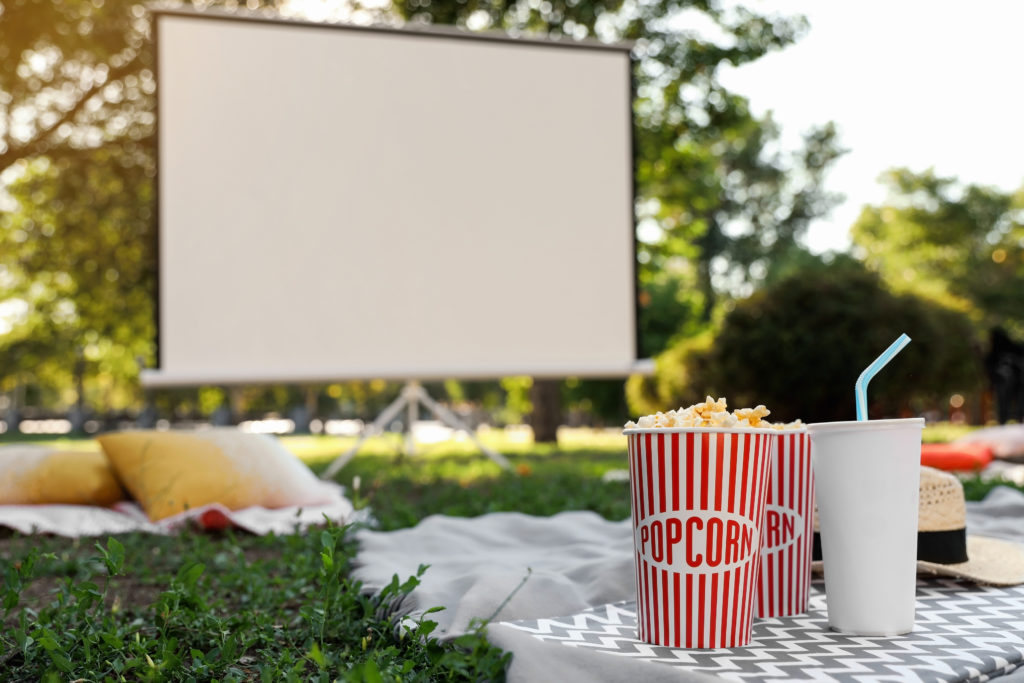 36. Fall Fest
From pumpkin pie to pumpkin decorating, bring out all the spice of this fresh season filled with beautiful transitions.
37. Offsite Brewery Tour
As they take a leisurely stroll through a local Philadelphia brewery, employees will unwind.
38. Painting Class
With each brush stroke, watch employees' stress levels plummet and their creative energy soar.
Team-Building Activities
39. Cooking Class
This is one of the best ways celebrate employee appreciation day, but it can be scheduled any time that you want to reward, bond and challenge employees.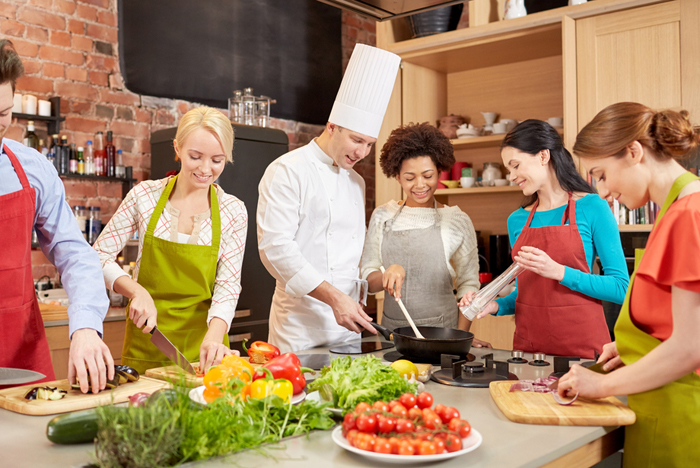 40. Obstacle Course
When they hear they will be splitting up into teams to tackle an obstacle course, employees will eagerly anticipate the challenges that await them.
41. Offsite Escape Rooms
Gaining in popularity, escape rooms are perfectly designed to test the teamwork and ingenuity of your employees in fun and memorable ways.
42. Ropes Course
Whether employees are afraid of heights or failure, they will have to work together to master a ropes course.
43. Scavenger Hunts
One of the best team-building activities, scavenger hunts demand high physical and mental energy and cohesion among co-workers. 
Competitive Activities
44. Sports Game
When you kick off a big project or goal is a great time to rejuvenate and reward employees with a group outing to a local Philadelphia sports game.
45. Olympic Games Competitions
We love the idea of forming teams for your office Olympics. Winter or summer, there is no bad time to rev up friendly competition with some athletic challenges. For summer, think lawn games at Philadelphia venues such as Springton Manor Farm where there are over 300 acres of lawn space for play.
46. Team 5K
When New Year's resolutions begin to fade, give employees an extra incentive to take on healthy goals by announcing a team 5K race with highly coveted prizes like time off or a fitness massage.
47. March Madness Tournament
Encourage all employees to make a bracket and see who comes out on top at the end of the season when you host a March Madness party.
48. Pumpkin Carving Contest
A fun activity that results in perfect office decoration, encourage employees to put their personal style on display.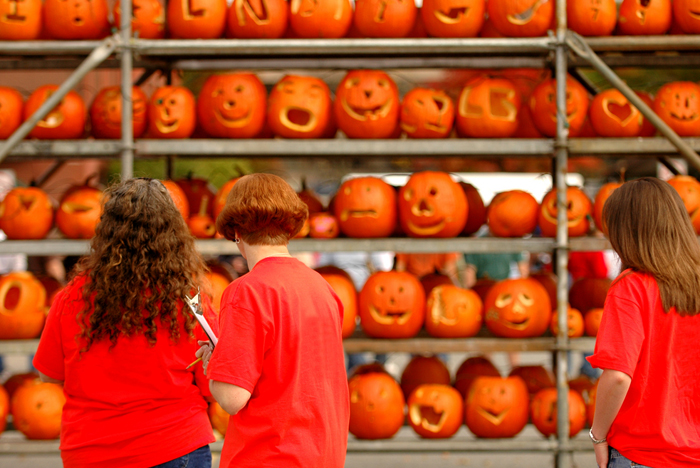 49. Trivia Events On- or Off-Site
Test employees' knowledge of their company and co-workers.
50. Bingo
Bingo boards are so easy to custom design with your company logo and a great way to reward employees with fun prizes.
Our skilled Philadelphia catering team is so glad that you realize the value of recognizing your employees, and we want to reward your ingenuity! That's why we will make the whole planning process fun and easy. To get started, contact us online or give us a call at 610.889.0477.
More articles you might enjoy:
SaveSave