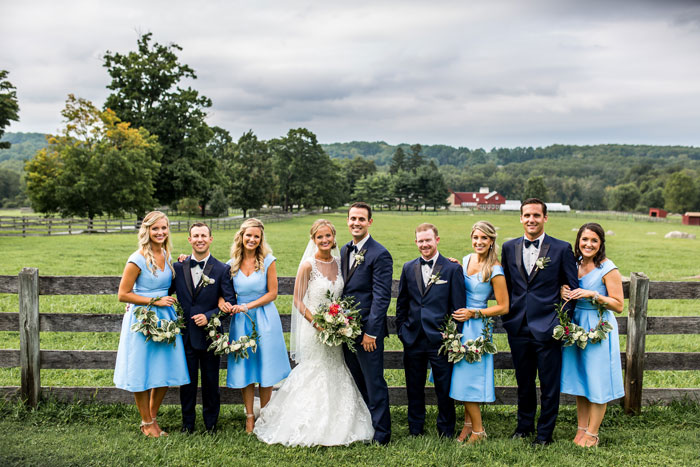 On Saturday September 1, 2018 Shannon and John joined 171 close friends and family in a day dedicated to celebrating their lifelong love together as husband and wife.
The couple's ceremony, which took place in a church offsite, was a small yet intimate one. Jensen Photography captured the ceremony's most special moments, as well as the ones that occurred during the reception at Springton Manor Farm.
The bridal party arrived at Springton Manor Farm around 4:30 p.m. They were joined by the DJ and florist. Shortly after, the cake arrived. Magpie Furniture was on hand to lend their event setup expertise and arranged a couch, chairs, benches and a coffee table for guests. Furniture was arranged outside the tent for guests to enjoy.
Finally, guests arrived at 5:30 p.m. and were invited into the garden's cocktail tent for drinks and small bites. Shannon and John sipped on their specialty mojitos, "O'Jitos."
Queen of Hearts Catering provided the bar service and catering for the reception. After cocktails, our staff passed out hors d'oeuvres, which included:
Scallops wrapped in bacon
Shrimp cocktail shooter with old bay seasoning
Mini crab cake remoulade
Philly steak spring roll with ketchup
Chicken quesadilla with chipotle sour cream
BBQ short rib crostini with sharp cheddar
Wedding attendees also enjoyed the Tailgate Cheese Board which featured: Huntsman cheese, Dill Havarti, Chevre and Jarlsberg cheeses along with fresh and dried fruits served with assorted crackers and flatbreads.
There were many gluten-free options passed around at the wedding. Several passed hors d'oeuvres worked well for people with gluten-free requests.
After a hearty cocktail hour ended, everyone was invited into the reception tent. Guests enjoyed introductions made by the bridal party, bride and groom's parents and grandparents. This lead to that moment of much anticipation: Shannon and John shared their first dance together.
While the couple danced, our staff served guests their salads. First plated course consisted of:
Baby greens salad with crumbled goat cheese, grape tomato, toasted pecan, cucumber and maple Dijon vinaigrette
Then came the father of the bride's beautiful welcome speech and blessing. With such an emotional, heart-filled day, guests worked up quite an appetite. Guests' meals included:
Mashed potatoes and green beans with carrot ribbon
Pan seared Coleman natural chicken breast with wild mushrooms, shallots and Marsala sauce
Pan seared beef tenderloin with burgundy wine sauce
Grilled eggplant, pepper and zucchini stack with mozzarella, charred pepper vinaigrette
As dinner wound down, guests raised their champagne flutes for toasts made by the Maid of Honor and Best Man.
The evening's colorful sunset served as the perfect backdrop for photos. Guests then headed inside the reception tent for a night of dancing. After the father and daughter, mother and son dances, guests were treated to an Irish jig.
The best weddings end the night with something sweet. The couple cut into their cake and passed around slices to their guests. Coffee and Italian pastries were also served.
Finally, John and Shannon bid everyone good night. The bridal party sent them off with a magical display of flags and lights.
More articles you might enjoy: