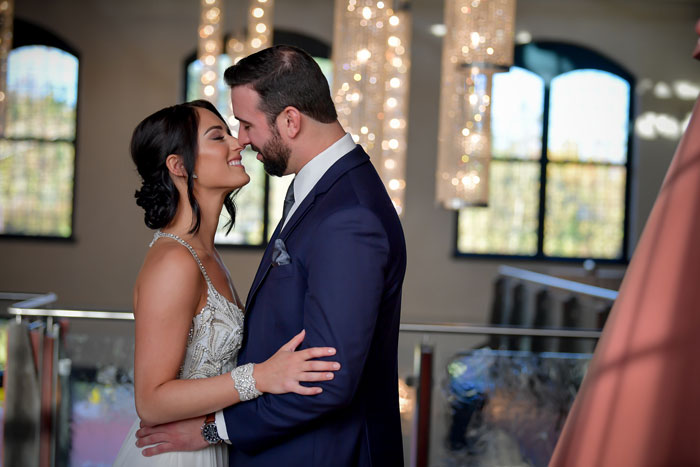 Rachel Radomski and Robert Spence brought a brilliant fall wedding vision to their first meeting with our talented event planner. They wanted an evening wedding that let their Philly pride and joyous relationship come through in fun ways. Together, they designed a personalized plan to light up one of our favorite Philadelphia wedding venues on October 28, 2017.
The charming historic features and industrial chic design of Phoenixville Foundry were the perfect frame for their wedding dreams.
Phoenixville Foundry Doubles as a Great Ceremony and Reception Venue
Making the Most of a Vast Philadelphia Wedding Venue
We were thrilled that the Spences' 190 guests would remain on-site at Phoenixville Foundry from ceremony through send-off. This 18,000-square-foot property dating back to 1882 has everything couples desire. Rachel and Robert made a great decision to arrive hours before their guests to prepare for their big evening and enjoy some quiet time together.
After getting ready in the private bridal suite, Rachel met Robert between the stacks on the mezzanine for their first look. Amid the neutral color scheme of the Cupola Ballroom and Mezzanine, their love already took center stage.
While our staff was busy making sure every detail of the West Wing Ballroom was perfect for their ceremony that was set to begin at 6:15pm, Rachel and Robert explored the property and joined their bridal party for photos. From the column truss bridge to the wrought iron Phoenix columns and West Wing brick patio, there is no shortage of incredible wedding photo backdrops at Phoenixville Foundry.
Personalizing the West Wing Ceremony Space
With pipe and drape placed along the outside wall and beverage area, modern lights hanging overhead and a wall naturally separating the West Wing from the ballroom, the scene was set for the Spences' secluded ceremony in the West Wing. Personalized with string lighting and burlap bows, this room became a warm and welcoming yet modern and animated ceremony space. Spanning 3,000 square feet, there was enough room in the West Wing for guests to get situated and bartenders to set up without disturbing the intimate atmosphere.
Personalized and memorable—the Spences' wedding ceremony was as picture-perfect as their pre-wedding images.
Enjoying a Tasty Cocktail Hour
At 6:30pm, guests picked out their favorite drinks from the bar and grabbed some tasty bites. We set up a delicious tailgate cheese board of Huntsman cheese, Dill Havarti, Chèvre and Jarlsberg cheeses meticulously arranged along with fresh and dried fruits. Served with assorted crackers and flatbreads, this appetizer was only a sample of the tasty small bites guests enjoyed.
Our staff also offered these scrumptious passed hors d'oeuvres:
Sesame chicken skewer: with honey mustard dipping sauce
Franks in a blanket: with spicy mustard
Crab cakes: with Old Bay remoulade
Bacon wrapped scallops
Vegetable spring roll: with Asian dipping sauce
Mini fried pierogies: with sour cream
Transitioning to a Fun Reception
In the West Wing, pipe and drape came down to display the second bar station, the cake table was prepared, and a guestbook and favors were placed out. With the wall that separated the West Wing ceremony space from the Cupola ballroom put away, guests were welcomed into the Cupola Ballroom and Mezzanine—a perfect reception space. At 7:20pm, the bridal party gathered for introduction. Thanks to the beautiful double stairways, women and men came down separate staircases and met at the bottom. Creating an equally dramatic moment, parents were introduced together as couples from the mezzanine.
After introductions, a welcome speech, traditional dances and a blessing, guests were flooded with emotion and joy that carried into a remarkable dinner service.
Celebrating with Fine Food
Having enjoyed a pre-set classic Caesar salad during toasts, guests were ready to dive into their entrées of choice. Accompanied by green beans with carrot ribbons and smashed garlic potatoes, these main dishes satisfied guests by delivering tremendous flavor and culinary talent in a beautiful plating:
Chicken saltimbocca: sliced prosciutto and provolone in a lemon demi sauce
Pan seared salmon filet: finished with a touch of caper dill sauce
Grilled vegetable lasagna: with herbed ricotta and light tomato sauce
Dancing with a Local Star!
When the 24' x 32' dance floor opened, Phillie Phanatic came out to visit the sweetheart table before rallying the crowd. Add in the great atmosphere generated by having a talented DJ in control of the music and the excitement in the room was contagious. With a coffee station set up in the West Wing and the dance floor full, the action only continued. At 10pm, the cake from Masters Baker was cut and the bouquet toss took place from the mezzanine, followed by the garter toss on the dance floor. The next thing guests knew, the Taste of Philly station was open for the last hour of celebrating.
With fun photos in hand, guests left Rachel and Robert's wedding at 11:30pm with renewed joy and Philly pride. An all-American scene thanks to their custom menu and fun activities, the Spences' wedding is one guests will long remember.
If you too would like your personalized wedding plans to come together effortlessly, let our team with more than 30 years of experience help you every step of the way. To start your enjoyable wedding planning process, contact our experts online or give us a call at 610.889.0477.
More articles you might enjoy:
SaveSave