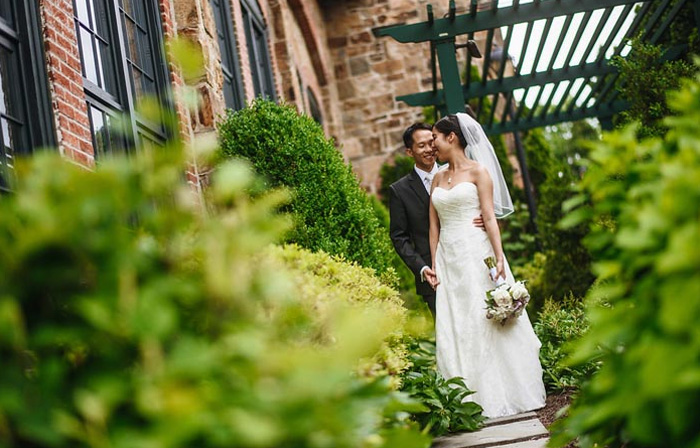 It takes but a few seconds around newlyweds Melinda and Dustin Chang to see that they are deeply in love. The way they laugh, the way they talk, and the way they look at each other is distinct. Their love is uniquely beautiful.
While the couple currently lives in California, Dustin is from New Jersey. So they wanted a uniquely beautiful wedding venue that was close to home for him. They came 3000 miles to Chester County and the Phoenixville Foundry to find it. Here's a look back on their momentous day in photos courtesy of Hoffer Photography.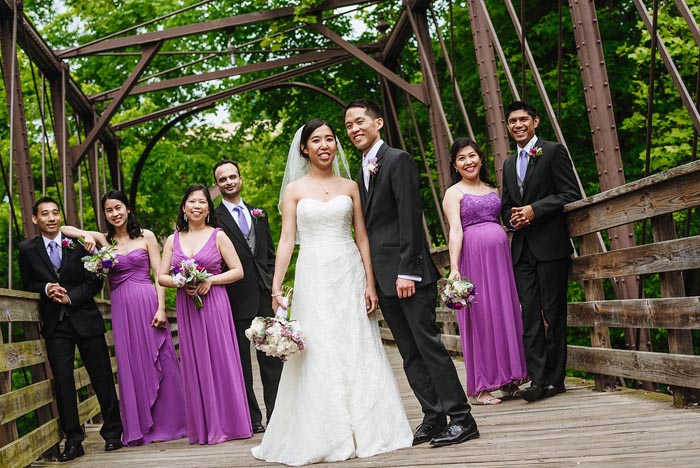 Planning a wedding for 127 guests can be challenging. Those challenges get bigger when you're conducting most of the planning over long distance. Living in California, about 99% of the Changs' wedding planning was done this way. Most of the guests actually flew across country for the celebration. But with our simple process and pre-made options, the Chang wedding was a piece of cake—even for a couple coming three thousand miles to find happiness.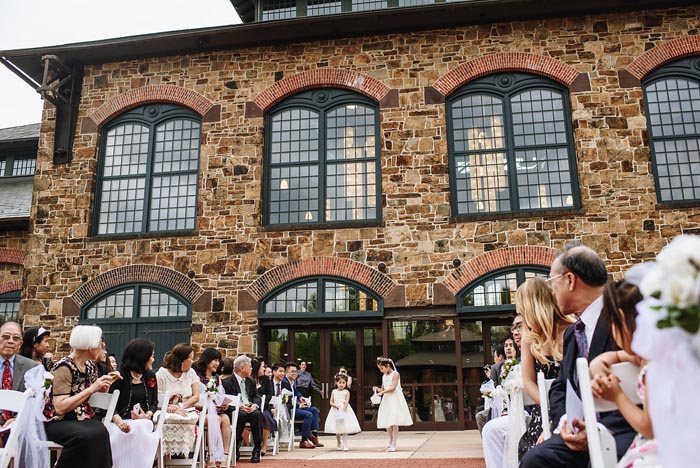 In picking a venue, the Changs fell in love with the beautiful stone facade of the Phoenixville Foundry. The huge windows and archways of the venue gave them just the look and aesthetic they were searching for.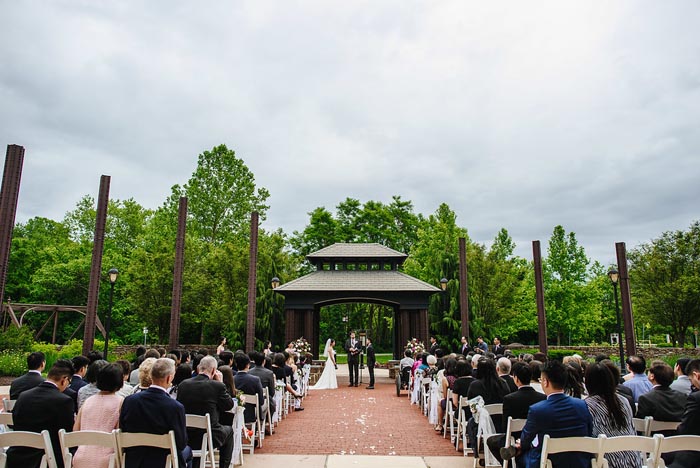 Not only did the Phoenixville Foundry have the look the Changs wanted, but it also had the practical flexibility to host both the ceremony and reception. Together, they held their breathtaking ceremony and made their vows in the sculpture garden beneath the stunning pagoda archway and in fantastic view of family and friends.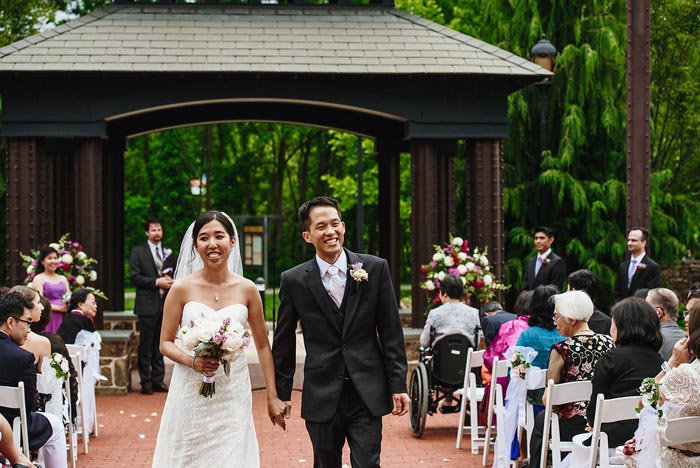 After their outdoor ceremony, the couple made their way down the aisle and inside, where a fantastic reception space, elegant decorations and delicious buffet were waiting!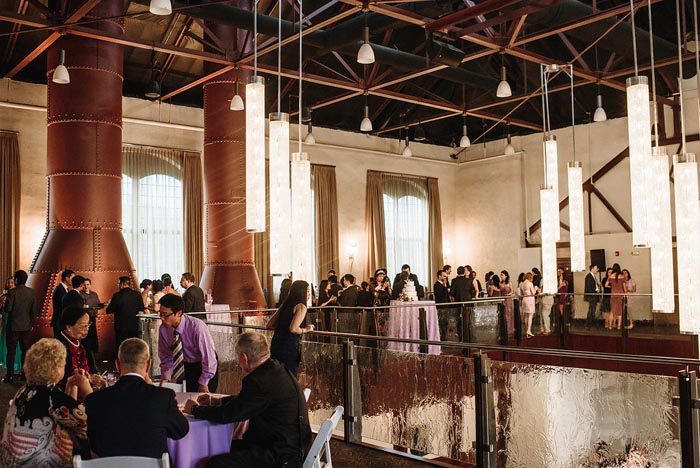 The Cupola Ballroom and surrounding mezzanine were prepared and decorated as beautifully as ever for the Chang wedding. The hanging lights gave the purple color scheme a soft accent and the entire room a very warm ambience. The open space was perfect for dancing, mingling and celebrating together with the happy couple.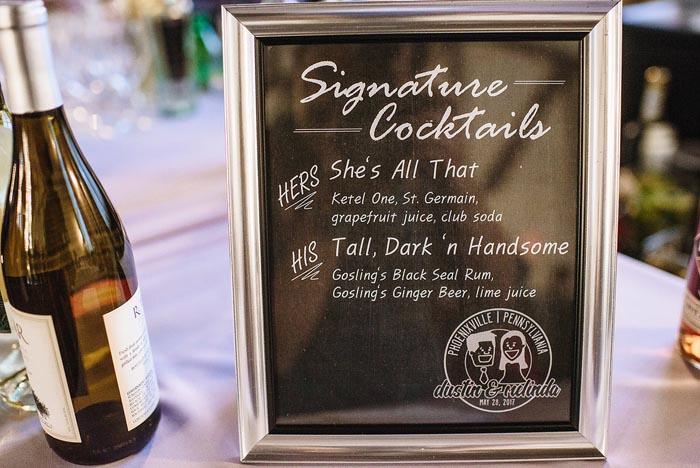 One of our affordable cocktail hour options features an assortment of his-and-her signature cocktails. The Changs were delighted to include them on their wedding menu. The "Tall, Dark 'n Handsome" cocktail features a Gosling's black seal rum with ginger beer and lime juice. Next to it, the "She's All That"—Ketel One, St. Germain, grapefruit juice and club soda!
These special cocktails were joined by several of the couple's and their guests' favorite beers, wines and spirits. It certainly made for a happy and lively crowd with great energy throughout the evening.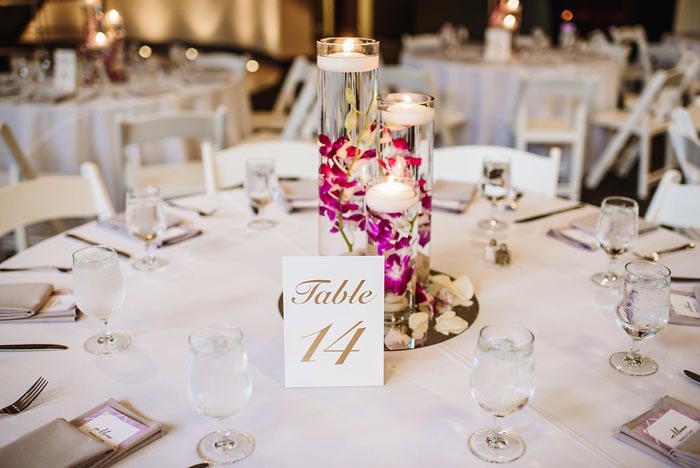 An aunt in the Chang family who used to be a florist created these stunning floral and candle centerpieces. Combined with the script table cards and elegantly designed menus, the dining space was set graciously for Melinda and Dustin's wedding guests.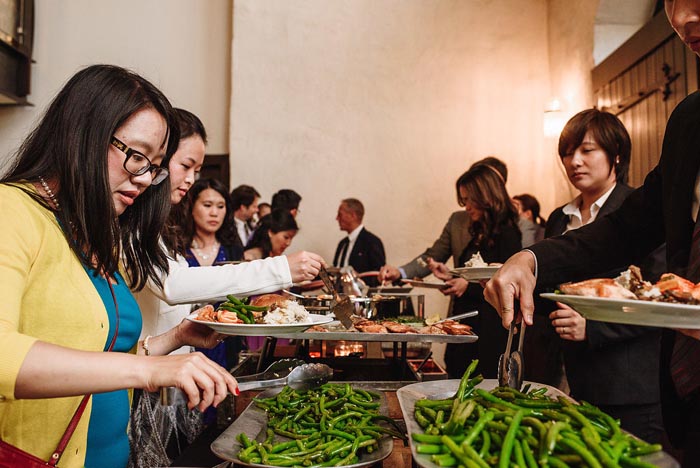 Before taking their seats, guests were first treated to some delectable passed hors d'oeuvres, including:
Chipotle steak churrasco
Bacon-wrapped scallops
Braised short rib phyllo cup with horseradish creme fraiche
Prosciutto-wrapped pear with bleu cheese
Vegetarian vegetable samosa
Vegetable spring roll with Asian dipping sauce
Afterwards, guests were able to survey the savory buffet of gourmet favorites, which included:
Cosmopolitan salad of field greens with mandarin oranges, roasted pecans and dried cranberries in a cosmo cranberry vinaigrette
Maple rosemary glazed pork tenderloin finished with sauteed mushrooms and brandy
Pan-seared filet of salmon with white wine and lemon
Vegetarian meze rigatoni, sauteed with zucchini, onions, and peppers finished with spicy marinara and fresh mozzarella
Red skin garlic mashed potatoes
Green beans with garlic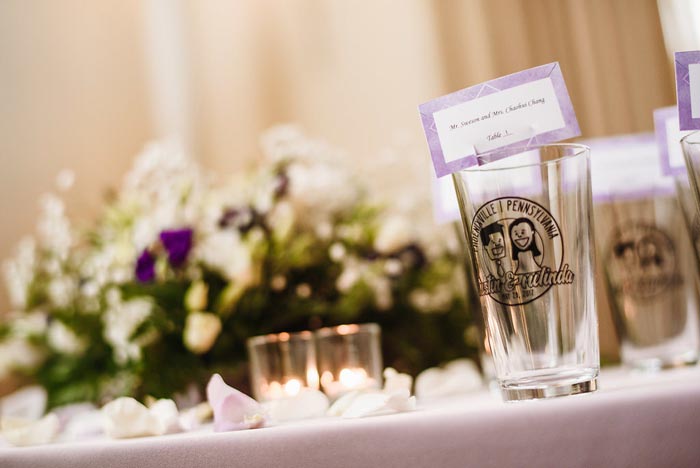 Guests were treated to these charming commemorative pint glasses. On them was a custom-designed emblem by the bride Melinda herself. It was a small touch that helped make the night memorable.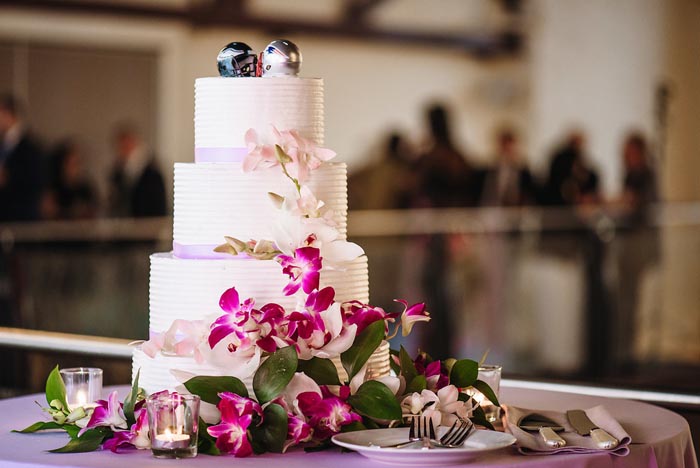 Check out this amazing wedding cake that was created by The Master's Baker of Chester County. The floral accents along the side reflected the design scheme of the interior of Phoenixville Foundry. But to personalize it even more, they included two miniature American football helmets of the couple's favorite teams (including our Philadelphia Eagles!).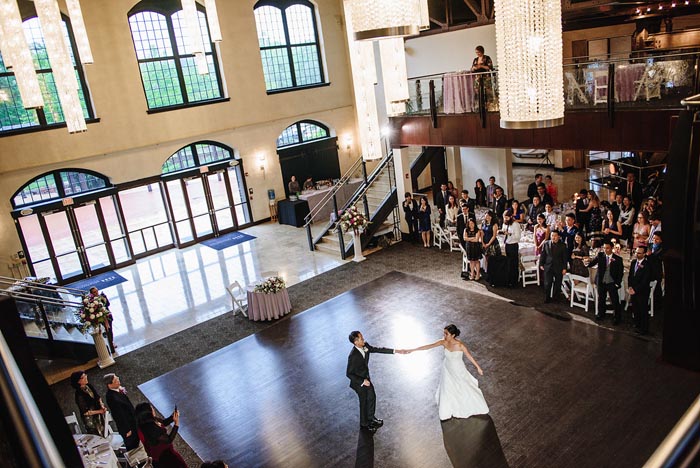 Once everyone had eaten, it was time for guests to let loose and for the Cupola ballroom to do what it does best—become an enchanting dance floor. The couple kicked things off with their first dance. Their love and chemistry were apparent. Soon thereafter, the DJ turned up the volume and guests really started dancing the night away.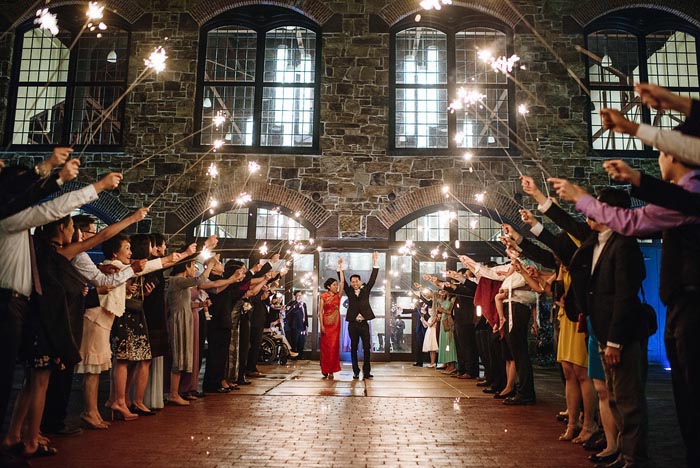 As the celebration wound to a close, guests greeted the newlyweds at the rear of the exterior of the Phoenixville Foundry to give them a warm and bright sendoff. They lined the walkway with sparklers as the couple walked beneath and graciously thanked them all for their love and support.
When this California couple came to us with visions of a destination wedding at Phoenixville Foundry, we decided to go all-out and dress up the venue in all the best ways. A beautiful wedding day turned into a beautiful wedding night, and the Phoenixville Foundry created the perfect canvas for Melinda and Dustin to celebrate this new step in their lives together. It was well worth crossing the country to experience!
If you're looking to plan your memorable wedding and are interested in exploring the Phoenixville Foundry or any of our other exclusive wedding venues, contact us online here or via phone at 610.889.0477.
More articles you might enjoy: