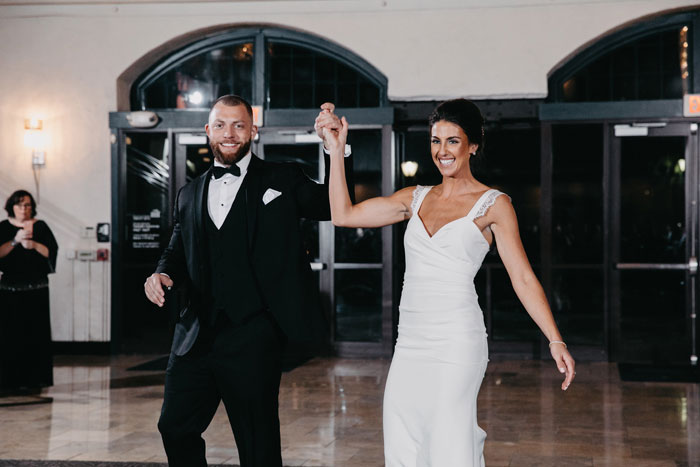 The world of wedding planning can be a bit overwhelming in the digital age we live in today. As a soon-to-be bride or groom searching the web for all the best tips and tricks to plan an epic celebration, you realize the number of resources can sometimes cause more stress than peace of mind.
In order to simplify your planning, we've determined our top 10 resources to use for planning a Philadelphia wedding. These resources cover everything from budget planning to decor inspiration.
1. The Knot
Perhaps the most well-known wedding planning site, The Knot is an all-in-one resource that guides you through the wedding planning process from start to finish. It combines practical tools, resource repositories and tons of dreamy real-life wedding inspiration to provide everything you need to ensure your wedding planning is seamless and stress-free.
The Knot even has an app called Wedding Planner that you can download to help you track things like your planning checklist, deadlines and budget. You can even use The Knot to create your free wedding website that depicts all the details of your big day for wedding guests!
2. WeddingWire
Similar to The Knot, WeddingWire provides you with the tools and inspiration for planning your wedding day. While it was initially started as an online vendor guide, it's since grown. In late 2018, it was acquired by the parent company of The Knot. Both WeddingWire and The Knot have their own database of vendors and customer forums to help you pick local vendors and make wedding decisions based upon real couples' experiences.
3. Philadelphia Wedding
For all the local gems, you must add Philadelphia Magazine's wedding section to your list of go-to resources. It features local vendor highlights and gorgeous photography showcasing real weddings throughout the Greater Philadelphia area. Discover local vendors who can help support your vision for the big day.
4. Brides.com
Brides Magazine's online counterpart, brides.com, is the ultimate resource for inspiration and finding answers to your questions. Not sure how to transport your bridal party from the hotel to the venue? Wondering how to create an environmentally conscious wedding? Looking for the latest bridesmaid dress trends? Brides.com has it all.
5. Etsy
Pretty much everything you could ever need to purchase for your wedding can be found on Etsy. What's better than supporting small businesses and aspiring entrepreneurs while shopping for your big day? Although big-name stores are still necessary, all the little details to make your day your own can be found among Etsy's many talented vendors and their online shops. From bridesmaid proposal kits to the pair of earrings that would perfectly complement your gown, Etsy offers so many options and ideas to inspire and provide solutions for all your wedding needs.
6. Appy Couple
This beloved app is a self-proclaimed "personalized wedding hub" that allows couples to streamline their planning and guest communications. For $49, you can design a wedding website, send out your invitations and manage all your RSVPs and messages to guests.
7. iWedPlanner
iWedPlanner is a free app that covers it all. It lets you track everything from your budget to your favorite hairstyle for the big day.
8. Top Table Planner
The seating chart is one of the most dreaded yet critical pieces of a wedding. Rather than using the old-school whiteboard with post-it notes, take the techy route with the Top Table Planner app. There's a free trial and plans starting at $20 to help you manage this tedious task and check it off your to-do list with ease.
9. Pinterest
While we realize Pinterest is a website, it makes for a pretty outstanding app. Kill two birds with one stone and search for wedding inspiration on the go!
10. Word of mouth
Nope, we're not referring to a website or app here. Simply asking your friends, family and vendors goes a long way when it comes to your wedding planning. There is no better recommendation or tip than one that comes from someone you trust.
We'd love to be another go-to resource you can trust. Our team has been producing weddings for the last 24 years, and we're very passionate about the work we do. Connect with us!
More articles you might enjoy: