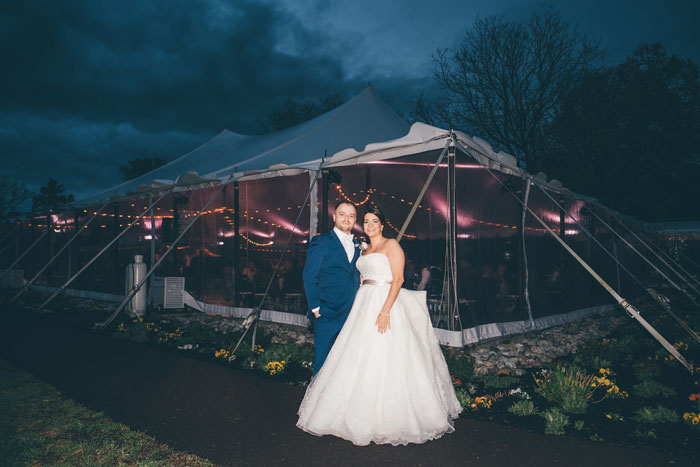 Like many young lovebirds, Nikki and James wanted to shout their love from the rooftops. So, on April 26, 2019, the couple celebrated their special story with 150 of their nearest and dearest friends and family during a gorgeous wedding at Springton Manor Farm.
Romance in Rose Gold
Springton Manor Farm served as an incredible venue for their ceremony and reception. The lush, green landscape created a striking contrast to the wedding colors: blush and rose gold. These delicate, romantic colors were sprinkled everywhere, from the bride's bouquet to the bridesmaids' gowns.
While the ladies looked pretty in pink, James was dressed to impress in a sharp, blue suit. However, he did make sure to have his own nod to the women, wearing a pink rose boutonniere on his lapel.
And of course, no one looked quite as stunning as the bride. Nikki wore a strapless, a-line dress with a lace overlay on the skirt. She even sported the wedding colors with a pair of sparkly, rose gold sneakers! 
A Sweet Ceremony in the Springton Manor Gazebo
As guests arrived at the Springton Manor Farm, they were directed toward a tented garden area on the grounds, which is surrounded by a grove of stunning beech trees. It was here where  Nikki and James came together in matrimony. A little rain was not enough to stop this joyous celebration.
The ceremony was heartfelt and emotional, with more than a few misty eyes in the crowd. Nikki and James said their vows, exchanged rings and sealed the ceremony with a kiss. 
Cocktails with Old-School Class
The cocktail hour was all about chatting with friends, drinking and getting in the mood to party. The couple hired a singer to perform for their guests, and he sang classic Sinatra tunes to add a touch of old-school charm to the evening. 
While the guests mingled and sipped their drinks inside the historic Manor House, our team passed around a tasty array of hors d'oeuvres. Passed appetizers included:
Traditional bruschetta

Mini Cuban sandwich

Mini crab cakes with remoulade

Coconut shrimp with spicy sriracha dipping sauce

Smoked gouda arancini

BBQ short rib crostini with sharp cheddar
Dinner, Dancing and a Dazzling Sunset
Following cocktail hour, guests made their way into Springton Manor Farm's roomy, weather-resistant reception tent, which was beautifully decorated with ivory tables, mason jar centerpieces and string lights that hung from the ceiling. 
The bridal party made their entrance along with the bride and groom, who kicked off the reception with their first dance as a married couple. Then they shared a dance with their parents.
Dinner included smashed potatoes and julienned seasonal vegetables, along with a choice of entree: 
Grilled beef medallions with wild mushrooms, shallots and marsala sauce

Herb crusted salmon with lemon dill sauce

Portobello mushroom tortellini with baby spinach, sundried tomato, garlic and cream
No wedding would be complete without cake. The five-tier masterpiece Nikki and James received from The Master's Baker was the sweetest way to end the evening! The bride, groom and guests enjoyed their dessert just as the sun was going down. The gorgeous sunset over Springton Manor's grounds only made the day even sweeter.
Nikki and James had an amazing wedding day, full of love and laughter. We know they'll remember it forever — and we will, too! If you want to see what Queen of Hearts Catering can do for your event, contact us online or call 610.889.0477. 
More articles you might enjoy: