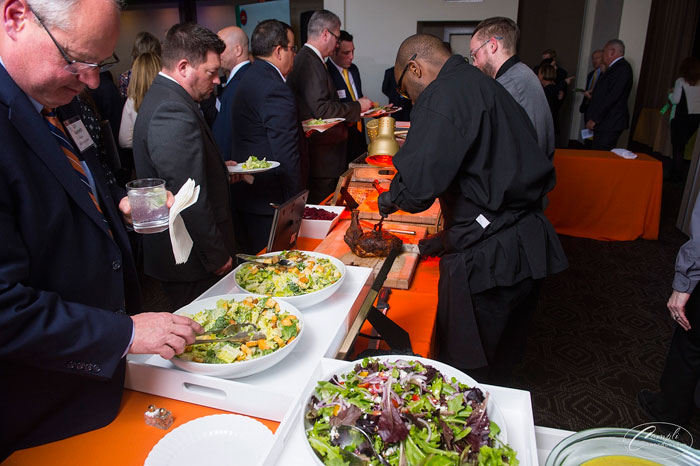 On Thursday, April 5, 2018, the Queen of Hearts team catered a celebratory event for 360 Chester County professionals. The annual business achievement dinner was held at one of Philadelphia's most innovative facilities, Phoenixville Foundry.
The foundry provides a private, scenic location and versatile spaces for important business events like all-day conferences, retreats, employee appreciation parties and more.
We were determined to provide our professional partners with an exceptional experience and a custom-designed menu featuring a stir fry noodle bar, sushi station AND carving stations.
Our team was on-site promptly at 1.30 p.m. to make table and station arrangements in the Cupola Ballroom. The first guests arrived at 4:30. A stage was also prepared, and a photographer arrived to take photos of Chester County Business Hall of Fame winner Claudia Hellebush, president & CEO of United Way. After everyone settled in, they mingled together and enjoyed cocktails. Staff provided them with colorful and beautifully prepared hors d'oeuvres, which included:
Barbeque short rib crostini with sharp cheddar
Lasagna stuffed mushrooms
Gluten-free mini crab cake with remoulade
Scallops wrapped in bacon
Shiitake mushroom leek spring rolls topped in spicy hoisin
After cocktail hour, guests took their seats in the polished West Wing Ballroom for the award ceremony. The ballroom, which is ideal for those seeking more intimate space with high-functioning audiovisual capabilities, served as a sophisticated setting. The award show began promptly at 5:45 p.m. and lasted until 6:30 p.m.
Everyone was more than ready for the carving stations arranged in the elegant Cupola Ballroom. And our chefs were more than happy to carve guests' choice of meat and fill their plates. Options included:
Tenderloin of beef with horseradish cream sauce and shallot demi-glace
Turkey breast with herbed aioli, classic gravy and cranberry sauce
This was accompanied by:
Cauliflower with garlic thyme butter and roasted herbed mushrooms
Herb dijon roasted red bliss potatoes

Smashed potatoes with sour cream and roasted garlic
Green beans with lemon and garlic
Julienned seasonal vegetables in a white balsamic vinaigrette
Fresh, crisp salads were also arranged near the carving station. They included:
Caesar salad with asiago croutons
Baby greens salad with crumbled goat cheese, grape tomato, toasted pecan, red onion and maple dijon vinaigrette
The beautifully presented sushi station and action stir fry noodle bar were a huge hit! Guests dressed their plates in a colorful assortment of veggie, Philly, spicy tuna and spicy yellowtail rolls.
The stir fry noodle station featured the following items:
Action Stir Fry Noodle Bar with Pad Thai: rice noodles, scallions, bean sprouts, egg and crushed peanuts. Dressed in classic Thai sauce and garnished with lime and cilantro.
Chow Mein Egg: noodles, carrots, onions, cabbage, broccoli, bean sprouts, scallions, bell peppers in garlic soy sauce
No one could forget the sweet ending featuring assorted mini pastry cups: tiramisu, cheesecake, red velvet, white raspberry chocolate and chocolate raspberry mousse. This night marked another exceptional award show for the Chester County professionals.

More articles you might enjoy: