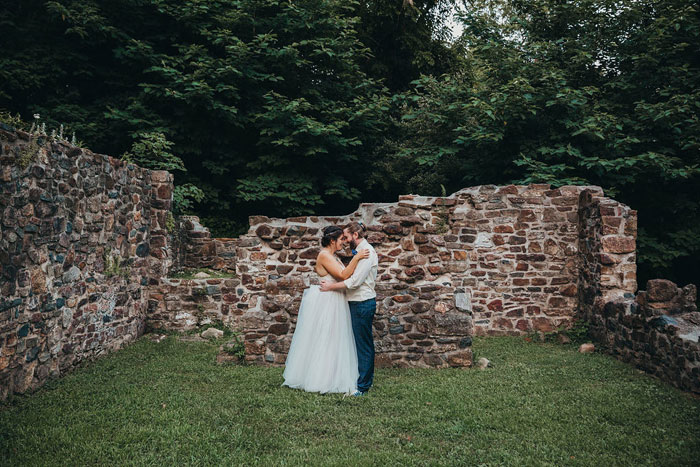 Finding that made-for-you Philadelphia wedding venue is easier said than done. And just because it matches your style doesn't mean it will fit your budget or location needs. With so many factors that go into the venue selection process, it can be helpful to collaborate with professionals who have experience creating affordable weddings against all different types of unique backdrops.
We partner with many unique venues across Pennsylvania to ensure that couples celebrate one of the most important moments in their lives in all the ways they've imagined. Here are some of our favorite venues that may match your unique needs and preferences:
For the garden lovers: Historic Yellow Springs
If you have a green thumb, then the magical Historic Yellow Springs is for you. The garden—with its 18th-century ruins and ethereal atmosphere—presents an enchanting place for your guests to experience an outdoor ceremony or cocktail hour.
Experience a reception inside The Washington. The modernized rustic venue offers a breathtaking ballroom that can seat up to 150 guests and two smaller rooms where everyone can enjoy cocktails and hors d'oeuvres.
Other features include: ample parking, convenient location, on-site kitchen and dependable vendors who know the space well.
Full of historic wonder: Duportail House
If you're a couple of old souls looking to transport your family and friends to another place in time, then the Duportail House is for you. Located within Chesterbrook and at the edge of Valley Historical Park, it has everything you'd want in a rustic wedding venue.
Duportail House encompasses an elegant stone farmhouse, the Federal Barn and beautiful grounds spanning three acres. Your guests can explore all three rooms of the house, enjoy cocktails and conversation on the patio and experience one of three ceremony locations—on the porch, in the front yard or behind the barn.
Other desirable features include: an on-site kitchen, ample parking and a recently renovated sitting room—a comfortable place for your bridal party to relax and ready themselves before the wedding. Not to mention it's pet-friendly and not even a mile away from overnight accommodations.
The ultimate countryside getaway: Springton Manor Farm
Springton Manor Farm has a little bit of everything—300 acres of rolling farmland, historic charm and architectural splendor. For those looking for a remote, private and truly intimate country experience, this special wedding venue is calling your name.
Couples love this location for its romantic ceremony spots alongside the century-old linden tree, in the perennial gardens and within the beach tree grove.
Guests can explore dozens of pathways, spread out across the massive lawn for outdoor games, ready themselves inside the quaint Manor House and enjoy a delicious meal and dance-off inside a tent arranged in front of a gazebo. Did we mention that the tent comes with a heavy-duty rain plan designed to withstand the toughest outdoor elements?
Covered in romance: Faunbrook Bed & Breakfast
This beloved Victorian bed and breakfast located in West Chester, Pennsylvania offers the ultimate swoon-worthy experience for you, your partner and your special guests. Everyone can experience one day or an entire weekend full of celebration.
 Faunbrook Bed & Breakfast is the perfect place to unwind and indulge. It offers the woodsy atmosphere, cozy facilities and homey vibes that many lovebirds are looking for. The historic mansion features a stone patio, charming rooms and a gorgeous veranda that will lead you to a waterfall.
Truly one of a kind: Phoenixville Foundry
Phoenixville Foundry is like no other wedding venue. Located in the heart of Chester County, this urban gemstone features a renowned architectural design, exquisite event spaces and intricate historic details.
Wow your guests with a ravishing reception in the West Wing Ballroom, which features over 3,000 square feet of flexible space. Dance the night away in the spacious Cupola Ballroom under its sparkling chandeliers. Enjoy a slice a cake and celebrate over drinks on the Mezzanine.
The Phoenixville Foundry has so many intimate outdoor places to explore and enjoy. The Sculpture Garden and iconic Phoenix Column Truss Bridge are two favorite places to exchange a kiss and snap a photo.
Find your wedding venue
Queen of Hearts loves helping couples create affordable and personalized weddings at many locations across Pennsylvania. If you're considering having your wedding at a venue in Philadelphia and the surrounding areas, we would love to hear about it. Let's collaborate!