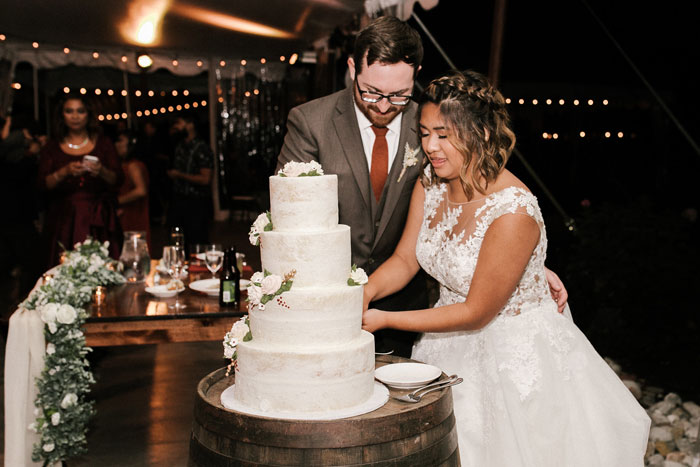 If you've browsed our website to get to know us a bit, you know that our main goal is to help you simplify your big day. With each event we cater, we strive to provide a seamless planning experience while staying within a budget you're comfortable with.
While we can tell you this all day long, we're going to have our previous brides help answer some questions so you can get to know us and discover what you'll experience as a Queen of Hearts client!
It's All About the Food at Queen of Hearts!
Are you able to accommodate dietary restrictions?
Queen of Hearts did a fantastic job for our wedding reception at Springton Manor Farm. We were absolutely impressed with every detail of their service, from the table settings to the attention to detail of their servers. The bar was spectacular, and the aesthetic they created for us matched what we had requested exactly.

They did a fantastic job of helping design and prepare for our reception. My new wife has many food allergies (dairy, gluten, soy, etc.), but our wedding planner was attentive to them and worked with the chefs to ensure that everything my bride ate on our reception day was good for her.

The food was delicious!

– Mary, via Wedding Wire
Queen of Hearts is a dependable, responsive caterer with delicious food. I appreciated the degree to which they worked with me on providing a menu with vegan options within our budget! Their planners are on top of every detail and super friendly as well. The food was just right: delicious and perfect portions.

– Kelsey, via The Knot
What are guests saying about the food?
The food was incredible! Our guests are still raving about how everything was cooked to perfection, especially the beef. The wait staff was amazing. We had a personal waiter take care of me, my husband and our parents. We were in great hands. I would highly recommend them!

– Molly, via Wedding Wire
Does the affordable price tag affect the food quality?
At first I was skeptical about using this place because they were a bit more cost efficient over another caterer that was recommended at The Foundry, but BOY did their food take me by surprise! HANDS DOWN BEST COCKTAIL HOUR FOOD TO DATE & dinner! Love love love your filet mignon and shrimp/scallop dish. You have outdone yourself, Queen of Hearts!!!! Thank you for serving me and my guests on my special day.

– Ashley, via The Knot
The Queen of Hearts Catering Dream Team
What is it like to work with a Queen of Hearts event coordinator?
I don't trust folks very easily, but I knew the moment that I met Rachel Brown and connected with Queen of Hearts Catering that we were in great hands. Rachel coordinated our wedding at Springton Manor and ensured that every detail was flawlessly executed. All of our guests raved about the food and the exceptional service that was delivered to them. From the lighting in our tent to having our dinner separate from our guests, the tips and suggestions that she gave made our wedding day feel romantic and even more special. As a couple in the LGBTQIA+ community, we were nervous about dealing with disrespectful folks, vendors, and venues, but I have to say that we had the complete opposite experience. In addition to making our night so special, they were able to transform one set of their restrooms to be gender neutral to ensure that all of our guests felt comfortable at all times. Queen of Hearts and Springton Manor could not have been more respectful, professional, and accommodating while producing such an amazing event.

– Sammy, via The Knot
I couldn't be more satisfied with the loyalty, respect, dedication, and dependability with QOH. I had the time of my life at my wedding,mostly due to the fact that I had not one worry because every base was covered. Not to mention that I still have people raving about the quality of the service and food. There is not one thing I would change about my wedding day, and I owe a huge shout-out to QOH for making that possible!

– Angela, via The Knot
We recently had our wedding at Faunbrook Bed and Breakfast in West Chester catered by Queen of Hearts. They did an outstanding job. Everything was perfect. Our event manager showed genuine care and emotional support. She was always punctual and thorough. Her suggestions were excellent, and many guests said it was the best wedding they had ever attended. Now the food! We were skeptical because we were a bit disappointed at the tasting. However, our menu was simply delicious. Everything from the butlered hors d'oeuvres to the buffet dinner was great.

– Cary, via The Knot
We had our wedding at the Washington at Historic Yellow Springs, and going with Queen of Hearts was such a smart decision! They were absolutely amazing throughout the whole planning process and simply PERFECT the day of. We had a thousand last-minute questions, and they were always responsive, detailed, and helpful. I never knew how much caterers were responsible for (like everything)! We didn't have a wedding planner, but Ashley acted as that role, setting the timeline, giving suggestions, and doing all the decoration setup and breakdown. She got us ready for introductions and cake cutting and EVERYTHING. We are so grateful to have worked with someone so kind, organized, and prepared. We had people taking care of us during our whole day and didn't have to worry about a thing. I would recommend Queen of Hearts to anyone and everyone; they were simply amazing. We are so grateful to have worked with this affordable company. Oh yeah, and the food! It was delicious, and they were so accommodating with everything from our vegan guests to guests with gluten, dairy, and peanut allergies—couldn't have asked for a greater company!

– Erin, via Wedding Wire
Queen of Hearts Catering Beyond Philadelphia
Can you still help plan a wedding if the wedding isn't located in Philadelphia or the couple doesn't live in Philadelphia?
I don't know what I would have done without Queen of Hearts. Not only did they answer every question, they did so much for me while I planned the wedding from abroad—from Skype calls to countless emails, they were there and on top of everything. They sorted out most of the details and even carried our rehearsal, since we had no idea what we were doing. Incredible service leading up to the day and even better service on the actual wedding day. 10/10 high class service!

– Staci, via The Knot
Queen of Hearts Catering Philadelphia Area Venue Relationships
Does Queen of Hearts work with many local area venues?
I would highly recommend The Manor House at Springton Manor and Queen of Hearts Catering to anyone looking for an amazing venue and catering company. We got married on October 6th and it was PERFECT! We worked with Amy during our whole engagement, and she was wonderful! Our planner answered my millions of emails right away; she was so organized, professional and just amazing at her job! She really made our wedding flawless! She is the BEST! We worked with Rachel the day of the wedding too, and she was just fantastic as well. Everything was so beautiful the night of our wedding—the food was great, and the catering staff rocked! Our friends and family still tell us how amazing our wedding was and how much fun they had! It really was the best night ever!!!!

– Samantha, via Wedding Wire
The best decision we made when planning our wedding was working with Queen of Hearts! While we worked with a couple of coordinators from the time we booked until our wedding day, they were all extremely responsive to our emails and on top of every detail. Our planners worked with us on the day of our wedding at the Washington at Historic Yellow Springs and made our day come together perfectly. We did not have to worry about a thing the day of and were able to 100% enjoy our day. The catering staff was excellent at making sure that my husband and I had drinks and were fed the entire evening from the moment we finished walking down the aisle. We especially appreciated Megan's calm demeanor as we did a sparkler exit with all of our guests on the terrace of a historic building to end the evening. Our guests are still raving about the food and how smoothly everything went.

– Meghan, via The Knot
Queen of Hearts catered my daughter's wedding at the Pennsylvania Railroad Museum. I couldn't have been more impressed with Amy and the entire staff. They had to bring everything to the museum—from the kitchen to cook the food to tables and chairs and even everything that went on the tables, likethe ice cream for the ice cream bar. Everyone commented on how good the food was. The staff was impressive, professional, and very friendly. They flipped the space from the wedding to the reception, and no one even realized that it had happened during the appetizers. I recommend them very highly. Thank you for being a part of her wedding and making it a day to remember!

– Darlene, via Facebook
What do you think—are you ready to start planning your wedding day with Queen of Hearts Catering? We'd love to hear from you; get in touch online or call us at 610.889.0477!