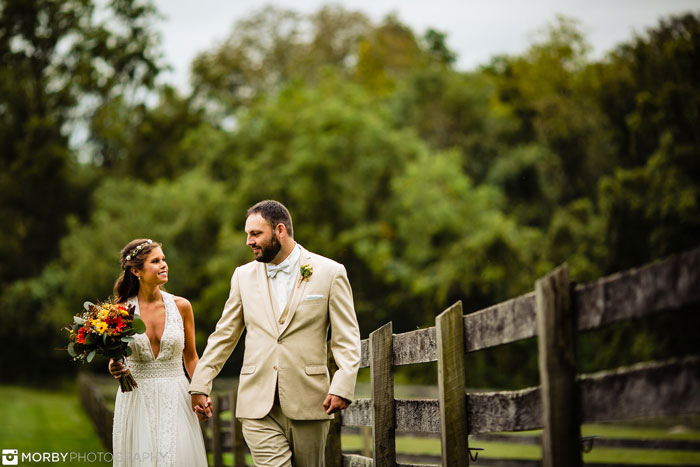 How to Plan a Philadelphia Brunch Wedding
A wedding should be a perfect expression of your love. Do you and your partner spend your weekends brunching with friends, trying all the hottest Philly brunch spots? Do you prefer a Sunday Funday to a Saturday night out? Maybe it's time to consider a non-traditional wedding format that will celebrate your love, in a way you love, with the people you love: a brunch wedding!
To brunch or not to brunch? What should you consider when hosting a brunch wedding?
Many don't know where to begin when deciding whether or not to host a brunch wedding because it hasn't been done as often as more "traditional" celebrations—all the more reason to start exploring the idea! Here are a few things to take into consideration when thinking about throwing a festive brunch fete to celebrate your nuptials:
1.   The Vibe
A brunch wedding is not going to be a wild celebration. You're not going to have that crazy dance floor with club-style lighting and music. It's going to be a more laid-back and casual celebration, perfect for a solo guitarist or live band for some more mellow dancing. If you're looking for that crazy party that goes all night long, you may want to skip the brunch wedding, but if you're a couple who loves to just hang out with friends and enjoy the day, this could be the perfect fit.
2.   The Schedule
It's going to be an early day! Typical hair and makeup starts early as it is, but when your ceremony starts at 11 a.m. and not 3:00 p.m., you're going to need to capitalize on all the coffee and go to bed early to get your beauty sleep. In addition, you may want to consider planning a sort of after-party, because after brunch is over, it's likely that friends and family in for the weekend will want to continue celebrating throughout the day!
3.   The Décor
Daytime events sometimes beg for more whimsical, casual décor. More pastel colors, less bold or dark colors that are sometimes more popular for nighttime weddings, fewer wine glasses and more coffee mugs and mason jars, and less uplighting and more light florals and greenery to set the mood.
4.   The Food
A brunch wedding is a total 180-degree switch from a nighttime wedding. You're not going to get a filet mignon with mashed potatoes; many will even stray from plated meal options. This style of wedding is a perfect chance to serve up fun brunch charcuterie boards to start, with a buffet full of sweet and savory dishes that highlight all the vibrant locally sourced produce of the season. Some ideas we love are tea sandwiches, fresh salads with seasonal fruit, a variety of sweet and savory tartlets, all the fresh egg dishes—and of course, a fun touch like a donut wall or naked cake decorated perfectly with sweet, colorful berries and cream.
5.   The Drinks
At a brunch wedding, the bar will take on a new meaning. Why? Champagne is going to be the beverage of the day, and you're going to need a lot more coffee than just the typical after-dinner cup. Consider highlighting a build-your-own beverage bar with mimosas and bloody marys accompanied by all the fixings, as well as a coffee and espresso bar for the coffee lovers in the group. A major benefit of a brunch wedding is that your cost for alcohol will likely be much lower!
Philadelphia Brunch Wedding Timing & Venues
If you decide a brunch wedding is perfect for you, next up is deciding on the perfect venue and time frame.
Starting before 10:30 a.m. is tough for some guests, especially those coming in from out of town, because they'll have to consider getting a hotel for more than one night. Most brunch weddings will start with an 11:00 a.m. ceremony followed by a brunch that will end around 2:00 p.m.
One of the most exciting parts of planning your wedding is exploring venues! We love cozy, charming, historic houses with sprawling green space. Here are a few of our favorite spots that offer just that, which you may want to check out:
Sample Philadelphia Brunch Wedding Menu
Here's an example of a recent brunch wedding menu we created with a Queen of Hearts couple!
Baby greens salad with arugula, pea shoots, sliced apples, shaved red onion, feta and toasted walnuts with a lemon honey vinaigrette
Classic tea sandwiches including turkey, arugula and avocado spread and chicken salad cucumber and cream cheese
Assorted egg stradas
Sausage and bacon
Homefries
Fruit salad
Cookie and brownie tray
Time for Games
Some of our favorite brunch wedding venues feature extensive outdoor green space that creates the perfect backdrop for that romantic brunch vibe. One way to make the best use of that gorgeous green space? Have fun games set up for cocktail hour! Here are a few fun ideas:
Cornhole – Get custom cornhole boards created with your names, wedding date and in your wedding colors. Guests will love it, and it will be a fun way to always commemorate your big day!

Croquet – There's just something about brunch and croquet that go together. Get some rustic wood signage leading to the croquet area for a fun decor accent.

Bocce Ball – The easiest game to set up, all you need is some balls and score cards!

Giant Jenga – Not only is jenga super fun, but you can leave colorful sharpies by the Jenga station and have people sign for an alternative guestbook.
Additional Brunch Wedding Ideas
Even though it's a newer concept, there is still plenty of inspiration out there! Here are a few of our favorite brunch wedding articles:
After you've gathered all the inspiration you need and are ready to get started, get in touch with us online or call 610.889.0477. We can't wait to help you plan the dreamy brunch wedding you're imagining!