Planning a holiday party can be overwhelming because there are so many things to consider. You need a festive holiday menu, a venue, party supplies, games and entertainment. But if you're planning your company's annual holiday party, then Queen of Hearts Catering is ready to help make it as stress-free as possible.
We've created delightful pre-made packages that simplify corporate holiday party planning and allow you to focus on what's important—running your business. We give you access to some of Philadelphia's most exclusive holiday event venues like the Phoenixville Foundry.
We tend to every detail of your event so that you and your guests have a positively memorable experience.
The Phoenixville Foundry: An Amazing Holiday Party Venue


We are delighted to plan your holiday event at one of Philadelphia and Chester County's most iconic venues—the Phoenixville Foundry. With three distinct event spaces, it is ideal for any size company holiday party.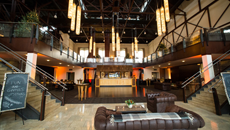 Cupola Ballroom & Mezzanine
The large Cupola Ballroom with surrounding mezzanine welcomes large holiday parties and can be outfitted with interactive chef stations and themed holiday décor.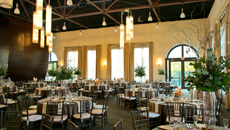 West Wing Ballroom
The smaller West Wing Ballroom features a high open ceiling and steel truss work. This flexible event space is absolutely perfect for everything from holiday-themed hors d'oeuvres to an elegant plated dinner.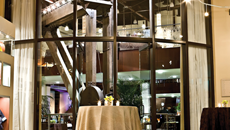 The Heritage Center
For an even more intimate company holiday party experience, the Heritage Center at 1,500 square feet can accommodate groups of 30 guests or fewer. It works well for company holiday cocktail parties and can be decorated with beautiful lighting to accent the season.

With its gorgeous stone exterior, exposed steel, magnificent archway doors and industrial architecture, your employees and company leadership will not soon forget a company holiday party at the Phoenixville Foundry. But dates are filling up fast, so we encourage you to book your tour today!
Delicious Holiday Catering Menus


Our seasoned chefs have created stellar holiday catering menus that are perfectly tailored to your company holiday party at the Phoenixville Foundry. With delectable passed and trayed hors d'oeuvres, savory entrees and custom cocktails, we'll give your holiday menu a twist that will bring out the "wow factor" for your event this year.
Contact our team today to request your holiday menu and start discussing how we can make your company holiday party a one-of-a-kind celebration full of delicious flavors.
Corporate Holiday Party Catering Made Easy

Our event planners make it easy and cover every aspect of holiday party planning from start to finish. From menus and venues to décor and entertainment, share with us your vision and we'll find the package that best suits your goals. We communicate with you every step of the way to ensure your satisfaction.
Holiday party planning can be stressful. But with some careful thought, you can throw an office holiday party that makes this time of year truly special for your team.
Happy Clients
See what some of our clients have to say about their holiday party planning experience with Queen of Hearts Catering.

Everyone ranted about how good the food was and how nice everything looked. It was top notch. As we like to put it here at Haverford it is always about 5 star service and you provided that.

-Holly, The Haverford Trust Company

Everything was marvelous!!! The food was fabulous, your Staff was fantastic and everyone raved about your services!!! Thank you for everything and have a wonderful holiday!

-Alexis, W.S. Cumby, Inc.

I personally thank you for looking out for me with the signature drinks & the funnel cake French fries….EVERYONE RAVED! We received terrific feedback on the food and the look of the room!

-April, Handi-Crafters, Inc.
Plan Your Philadelphia Holiday Party at Phoenixville Foundry!
Contact us today, and let's make your annual celebration memorable!

Start Planning